Pump Amp Meter
| | |
| --- | --- |
| | Panel mounted digital display tracks parts washer pump amp draw. Amp draw of the pumping system is a major indicator of the health of the parts washer system. Gradually increasing amp draw traces wear, indicating maintenance intervals. Sudden changes, such as drops indicate plugged flow passages or suction screen cleaning requirements. Digital system calibrated to actual parts washer amp draw requires no adjustment and no maintenance. Accurately calibrated induction coils display instantaneous pump amp draw. Duplex pump systems have a display for each pump. The amp meter provides a visual indication of the health of the heart of the parts washer and is useful for preventative maintenance |
Hour Meter
Panel mounted industrial hour meter maintains parts washer usage allowing for scheduled maintenance based on operating hours. Electrically operated Hour Meter is easy to read and accurately measures operating hours.

Total operating time of parts washer is used as a trigger for preventative maintenance and service schedules such as external bearing lubrication and pump lubrication.
Maintenance Kit
The StingRay maintenance kit provides the basic necessities required to use and operate the parts washer. The kit includes the following:
Pump Suction brush specifically designed to clean the pump suction screen. The brush makes it easy to keep your suction screen clean of debris that is a normal part of parts cleaning.

Touch-up paint – spray can of compatible paint matching the standard StingRay blue color of the machine exterior cabinet. Great for minor nicks and scratches to keep your machine looking great.

Grease Guns (2) – the grease guns are required maintenance items and are top quality units with a specific flow rate of grease for use with the parts washer. Keeping the grease guns near the machine helps to assure the proper maintenance is performed by machine users as it eliminates having to search for a grease gun with the proper grease.

Internal Bearing Grease – 9 tube case - StingRay OEM specified grease for bearings inside the wash chamber. Designed for resistance to alkaline detergents with a high melt point to resist washout.

External Bearing Grease – additional supply of high speed grease specified for all external bearing on parts washer.
Extended Work Height Mild Steel
StingRay can easily change any standard size machine to a new height for cleaning taller or shorter parts. Increasing the height of the cleaning area in the parts washer cabinet allowing washing parts taller than the standard machine work height. Shortening the workheight increases power density and improves cleaning performance. Depending on overall wash chamber height, an increase to the heavy duty turntable option may be recommended.
---
Heavy Duty Duplex Pump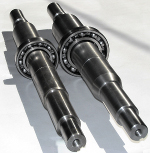 The StingRay Heavy-Duty Upgraded pump system with larger shaft and bearing system is for abrasive and aggressive parts washing applications. The larger diameter shaft supports the pump impeller and prevents shaft deflection thereby reducing wear on critical components particularly in the throttle bushing and suction eye. These two areas are the key wear zones in a cantilever centrifugal pump. The larger main bearing handles heavier loading and increases life. The shaft diameter increase adds 186 % to the stiffness and the larger size bearing adds 162% to the L10 bearing life.
---
High-Low Pressure Switch
Selectable output pressure of the pumping system allows cleaning delicate parts with low pressure and provides for high impact washing of difficult soils in the same machine. Panel mounted heavy-duty NEMA 12 selector switch with a choice of high or low pressure is easily operated. Duplex pumps only.
---