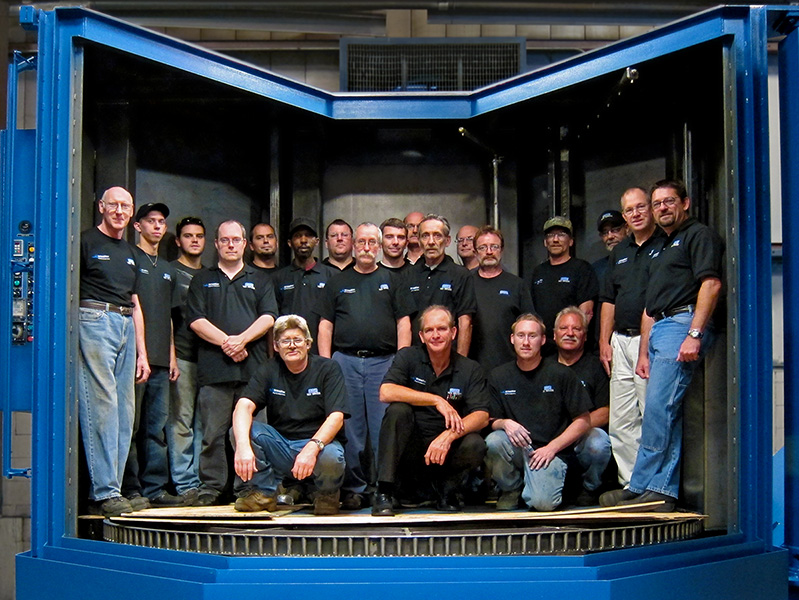 Focused, real people engineer and build Stingray parts washers in St. Louis, Missouri, in the heart of the USA. The streamlined assembly process takes place in our own fabrication facility using high quality materials and disciplined processes. We do not subcontract manufacturing or use virtual products.
Our Team
Our dedicated team of fabrication craftsmen is passionate about StingRay washers and shares a love of metal fabrication. Our solid Midwestern work ethic and enthusiasm for our work is evident throughout the factory. We are a good-humored group, yet still very knowledgeable and extremely capable. We seek long term mutually rewarding relationships by providing successful solutions with lasting value to our customers.
Customized Solutions
Our team assists you with all phases of your cleaning challenge to configure a tailor-made solution specifically for you. You and a StingRay engineer work together to develop the right combination of thermal and mechanical energy, chemical type and processing time for your new StingRay. The result is the StingRay difference – a remarkably superior form of parts cleaning.

Signature Attention to Detail
Each of us is proud to build a StingRay to serve your cleaning needs and we are very thankful you recognize the value and pride we build into every washer. Every StingRay team member takes a special interest in your project and scrutinizes all phases of construction. Our signature attention to detail is an essential element of our focus on quality and our ability to ensure you are totally satisfied with your new StingRay washer. We under promise and over deliver.
Photos of Team StingRay in Action