Quality is a way of life at StingRay - Our signature attention to detail, dedicated and experienced team and rigorous quality system assure your parts washer is fully functional before it leaves the factory. Each StingRay parts washer is engineered to run flawlessly, with proven reliability backed by a comprehensive warranty program.
Responsible Manufacturing
Our commitment to excellence starts with our design and manufacturing teams, who are among the most experienced and creative professionals in the parts washer world. They are responsible for introducing a number of industry innovations, from the first sprocket drive turntable to the revolutionary oscillating power blast manifold.

Over the years, StingRay has refined and reinvented systems that power the wash action; heating and pumping systems, fluid level control and other functions for robust and efficient operation. You can be assured that when you select your StingRay parts washer, it can be expected to perform exceptionally for years.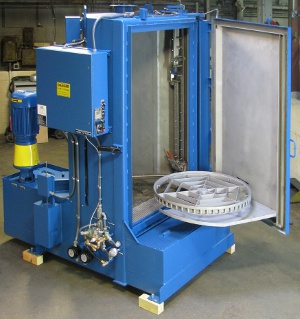 StingRay stainless steel model SR4063 industrial parts washer for an aircraft manufacturing company in Mexico.
Quality Assurance Process
Every StingRay parts washer is required to pass through over 1,000 quality assurance check points, including filling each parts washer with water not once, but twice. Each parts washer must complete a 90 minute endurance leak tightness test on all joints before it is painted. We then drain the parts washer, complete the construction, re-fill the solution reservoir and put the parts washer through three 30-minute wash cycles and a thorough 4 hour inspection process before it leaves our factory. Our goal is to make high-performance parts washers that exceed our users expectations for quality and reliability.