Tree Sap, Pitch and Resin Removal in a StingRay Parts Washer
Tree sap is difficult to remove from parts, but with a StingRay parts washer and the StingRay Power Wash Process, this can be accomplished in short cleaning cycles with the proper detergent and heat.
Sap: More of a liquid, like honey or less viscous than honey. Sap is the sugary secretion from plants and trees.
Pitch: Intermediate between a liquid and a complete solid. Pitch is like that crystallized honey you find in your pantry after it's been there for quite a while.
Resin: Most solid of these forms. If you've played an instrument with a bow (like the violin), you've probably used a solid block of resin on your bow. People seem to use "pitch" and "resin" more interchangeably, while sap usage is reserved more often for the seeping, liquid form.
| | |
| --- | --- |
| | |
| Before and After of Sap Removal from a Lumber Mill Spike Roll | Close-up of Sap Removal Cleaning Results in a StingRay Parts Washer |
| | |
| --- | --- |
| | |
| Before & After StingRay Parts Washer Cleaning - Lumber Mill Spike Roll Bottom | Lumber Mill Spike Roll Top |
Sap Removal Case Study
End User is a Lumber Company in Canada, the eleventh-largest sawmill in the world. This company processes predominantly white spruce, lodge pole pine, and alpine fir, with douglas fir also a component of the log mix.
In 2013, StingRay tested the cleaning of caked-on sap from bark removal and feeder rolls utilizing:
♦ StingRay parts washer with 30hp pump system
♦ No pre-cleaning or pre-spraying
♦ High wash temperature
♦ Engineered fixture to hold rolls in place on turntable.
End User acquired a StingRay SR5248, with en extended work height of 60 Inches, to accommodate multi-sized rollers and components. Upon Start-up, the StingRay technician documented their cleaning success with a bark removal roller: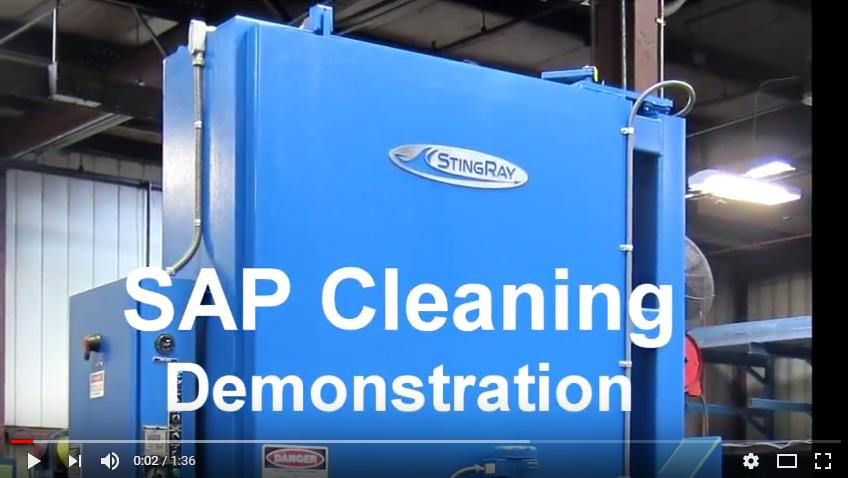 Contact StingRay Parts Washer to start configuring your ideal tree sap, pitch or resin removal washer!