StingRay Wastewater Evaporator
Advantages: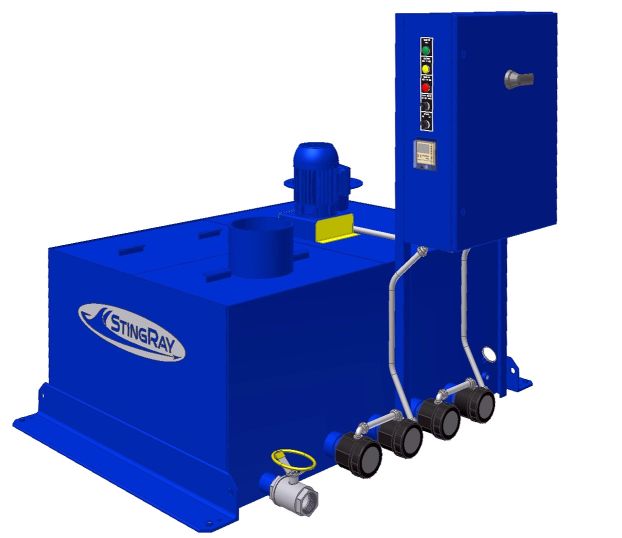 StingRay Wastewater Evaporator
Greatly reduces waste water disposal costs: Evaporation costs 25¢ per gallon (on average), while disposal costs $3 to $6 per gallon.
Reduces waste management labor costs;
Automated, efficient evaporation;
Minimize environmental impact;

Green

Technology in waste water management.
Features:
Evaporate 15 gallons per hour (58 liters per hour);
7-day programmable timer for automatic heat-up and shut-down;
Reservoir access lids;
Reservoir drain with ball valve;
Automatic electronic temperature controller & thermometer;
Thermal insulation maximizes cost savings;
Spill-proof inlet prevents splashing when filling;

Enhances Efficiency of StingRay Parts Washers


Automatic Steam Exhaust removes steam during evaporation (includes easy installation kit).
Industrial controls meet NFPA 79 for safety;
Minimal operator attention: Indicator signals time to add another 55 gallons or 208 liters, Low solution safety shut-off and fluid level indication;
Indicator lights provide monitoring and filling of the evaporator.
Specifications:
Reservoir capacity: 165 gallons/624 liters;
240/480VAC, 60 Hz, 3-phase; other voltages/50 Hz available;
Electrical disconnect for safe operation;
Fast-heating with 45 kW electric heat; Incolloy sheath elements with low-watt density for extended life;
Enhanced water evaporation accelerator maximizes water evaporation and prevents premature settling of sludge produced by the evaporation process.