Wind Turbine Gearbox and Gear Components
Gearbox and drive components are a common aqueous cleaning application in a StingRay Industrial Parts Washer. Gearing of all types for mining, power generation, pulverizer & mill repair, marine gearboxes, cement kilns, aluminum mill stands, aerospace gears, automotive press components and drives, movable bridge drives, crane bearings, and wind energy gearboxes are thoroughly washed in a StingRay industrial parts washer. Most components are clean and ready for inspection in short 15 minute cycles: Wash-Heated Rinse-Flash Dry.
Aqueous cleaning of gearbox components is an ideal method for removing particulate and preventing reduction of life and performance. For example, the multiple bearings and gears in a wind turbine gearbox are subjected to extreme stresses from wind turbulence. Cleanliness requirements for rebuilt and repaired gear trains are very tight, running below 1 micron. Small metal particles on even one gear or in a bearing can cause catastrophic failure and stop the turbine.
Eliminate Solvent Cleaning
Save Labor - No manual cleaning
Environmentally safe detergent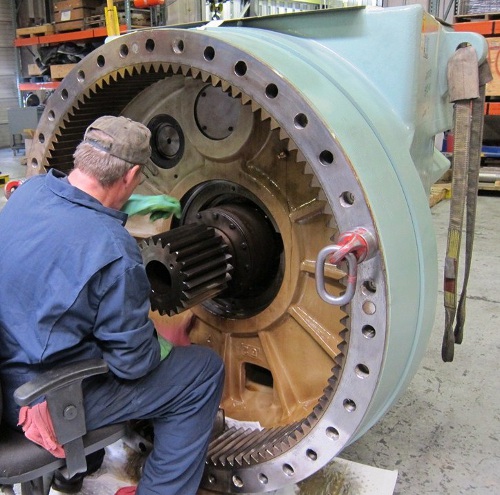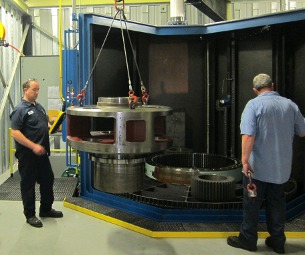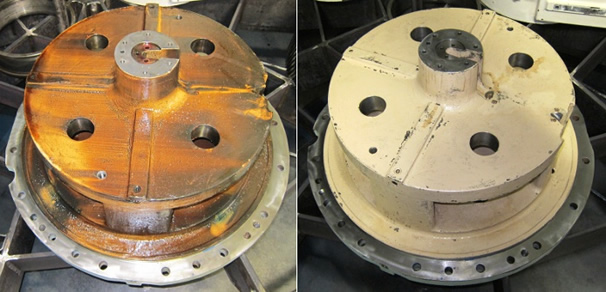 Eliminating contamination during repair and rebuild by using a StingRay aqueous washer to thoroughly clean each component is the best insurance against early failure. A properly configured StingRay parts washer cleans the gear box case, planet gear and pinion, shaft, bearings, case, carrier and even the complete drive train in less than 15 minutes. Cosmolene from new replacement gears and carriers is also easily removed in short wash cycles utilizing the proprietary Power Wash Process and the hydraulic impact of the heated cleaning solution. The high power density, high heat input and specially formulated cleaning chemical from StingRay eliminates the particulate, over heated gear oil and dirt from gearbox parts.
The repair of a wind turbine is a complex task made more difficult by the weight and size of the gearbox. The StingRay model 12090 with 28,000 pound weight capacity and 120 inch diameter by 90 inch high work area easily handles most gearbox sizes. An optional Short High-Impact Manifold doubles Power Density (increases impact energy by 64%) and provides the advantages of two machines in one to save time with processing shorter-height wash loads.

No Manual Solvent Cleaning
Green chemistry eliminates the manual cleaning with flammable solvents common in many gearbox repair shops. A StingRay aqueous parts washer uses a non-flammable alkaline cleaning solution that mitigates the risk of fire and is less expensive to ship and less expensive to dispose of than solvent based cleaning solution. Rust inhibitors injected into the rinse water prevent flash rust until components are reassembled. Additionally, employees are no longer exposed to the hazardous solvents used during manual cleaning.