StingRay: The Unique Industrial Parts Washer Company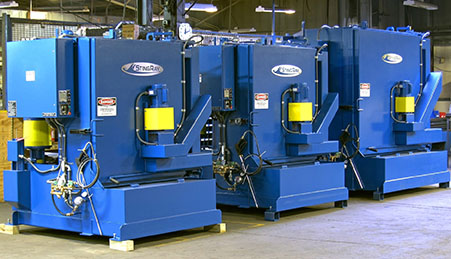 StingRay Manufacturing LLC, a Missouri based company, was founded in 2009 by a team of engineers, led by Marc Treppler, who previously worked at the MART Corporation and holds multiple patents on parts washers. MART Corporation, one of the leading manufacturers of aqueous parts washers since its founding in 1971, ceased operations in early 2009. Subsequently, several MART engineers formed StingRay Manufacturing. Using their many years of experience in designing and building heavy duty aqueous parts washers for MART, the team integrated numerous design improvements resulting in the StingRay Parts Washer.
The StingRay Heavy Duty Difference
The StingRay Industrial Parts Washer is unique in the industry as it uses the hydraulic force of impact pressure for cleaning rather than flooding dirty parts with hot washing solution. Based on developments by MART founder, Gary Minkin and patents by Chief Engineer Marc Treppler (now StingRay President), the StingRay technology difference lies in its patented, non-synchronized, oscillating manifold system that blasts parts from a different angle each time the part passes on the rotating turntable providing thousands of angles of impingement. Learn more.
Hidden recesses and blind areas of parts that fixed manifold systems miss are effectively cleaned with the oscillating manifold. This technology combined with heavy-duty, high-efficiency pumping systems and high output heating systems delivers faster cleaning cycles and more thorough cleaning results.
StingRay Quality
Quality is a way of life at StingRay - Our signature attention to detail, dedicated and experienced team and rigorous quality system assure your parts washer is fully functional before it leaves the factory. Each StingRay parts washer is engineered to run flawlessly, with proven reliability backed by a comprehensive warranty program. Learn more.
Compare us to the Competition
We know that you have a choice when it comes to selecting a parts washer supplier so our engineers carefully analyzed the work volume, load capacity, duty type, heating and pump performance of other parts washer manufacturers to help you compare. We then took this information and developed a manufacturers comparison chart including parts washers and jet spray washers from StingRay, JRI Industries, PMW Equipment ( RG Hanson, Roto-jet, Stoelting & ALKOTA ), Better Engineering, Safety-Kleen, Cuda ( Landa & Hotsy ) and Proceco. Learn more.
The Factory & Our Team
No virtual product here. Find out our philosophy and passion for building StingRay parts washers and see photos of our team as they complete various processes leading to the creation of a StingRay. Learn more.
Communications
Communication is a key to success in life and success with your new StingRay. StingRay communications is a system designed so you always know the status of your new StingRay and the next steps as it moves from birth to operations in your factory. The StingRay 10 steps of communication are:
1. StingRay Build Records - Preproduction Status
2. StingRay Build Records - Ongoing emails and Photos throughout Production
3. StingRay Tech Services - Confirmation of Washer Layout and Utilities Documentation
4. StingRay Tech Services - Chemical, Prestart-up, Installation Planning Support and Guidance
5. StingRay Tech Services - Confirmation of Shipment
6. StingRay Tech Services - Ongoing Installation follow-up and additional Guidance as needed.
7. StingRay Tech Services - Chemical Confirmation and Recommendations
8. StingRay Tech Services - Receipt of Prestart-up and Installation Photos
9. StingRay Tech Services - Schedule Start-up
10. StingRay Tech Services - Start-up completion follow-up, test wash results, recommendations for operation.
And it doesn't end there, StingRay Tech Services continues to communicate with you for as long as you own your washer. During the first year there are numerous milestones and follow-ups to provide you help when you need it, gather feedback and provide additional guidance or adjustments to guarantee your success.
Build Records
Watch your parts washer take shape on our factory floor. The StingRay Build Record is a weekly status update with photographs of your washer as it is built in our factory. Receive your machine's target ship date immediately after you place your order. Learn more.
Testimonials
See what others have to say about their experience working with StingRay. View Testimonials.
Unsurpassed International Recognition
StingRay is proud to have manufactured parts washers for companies around the globe. Our machines are found in China, Russia, Australia, Chile, Canada, USA, United Kingdom, Taiwan, Mexico, Columbia, Africa and others.