StingRay Turntable Liners

Expanded Metal Turntable Liner
Steel mesh covers the top surface of the turntable. The mesh turntable liner provides a stable and even surface for loading parts. The turntable liner provides permanent access to various internal parts of the washer such as the chip baskets or the SHIM valve eliminating the use of temporary walkways. Openings are provided in the liner for access to turntable anchoring points. The liner construction is designed based on the turntable load capacity. For turntable load capacities of 10,000 pounds or greater the liner shall be constructed of 5/16 inch diameter steel mesh on 2 inch square centers. For turntable capacities below 10,000 pounds the liner shall be constructed of expanded metal ¾ inch #9 standard with 68% open area and 9 pounds per square foot. Available options include stainless steel construction for corrosion protection, hot-dip PVC vinyl coating for protecting sensitive parts from scratches and solid UHMW plastic.

Coated Expanded Metal Turntable Liner

UHMW Laser Cut Turntable Liner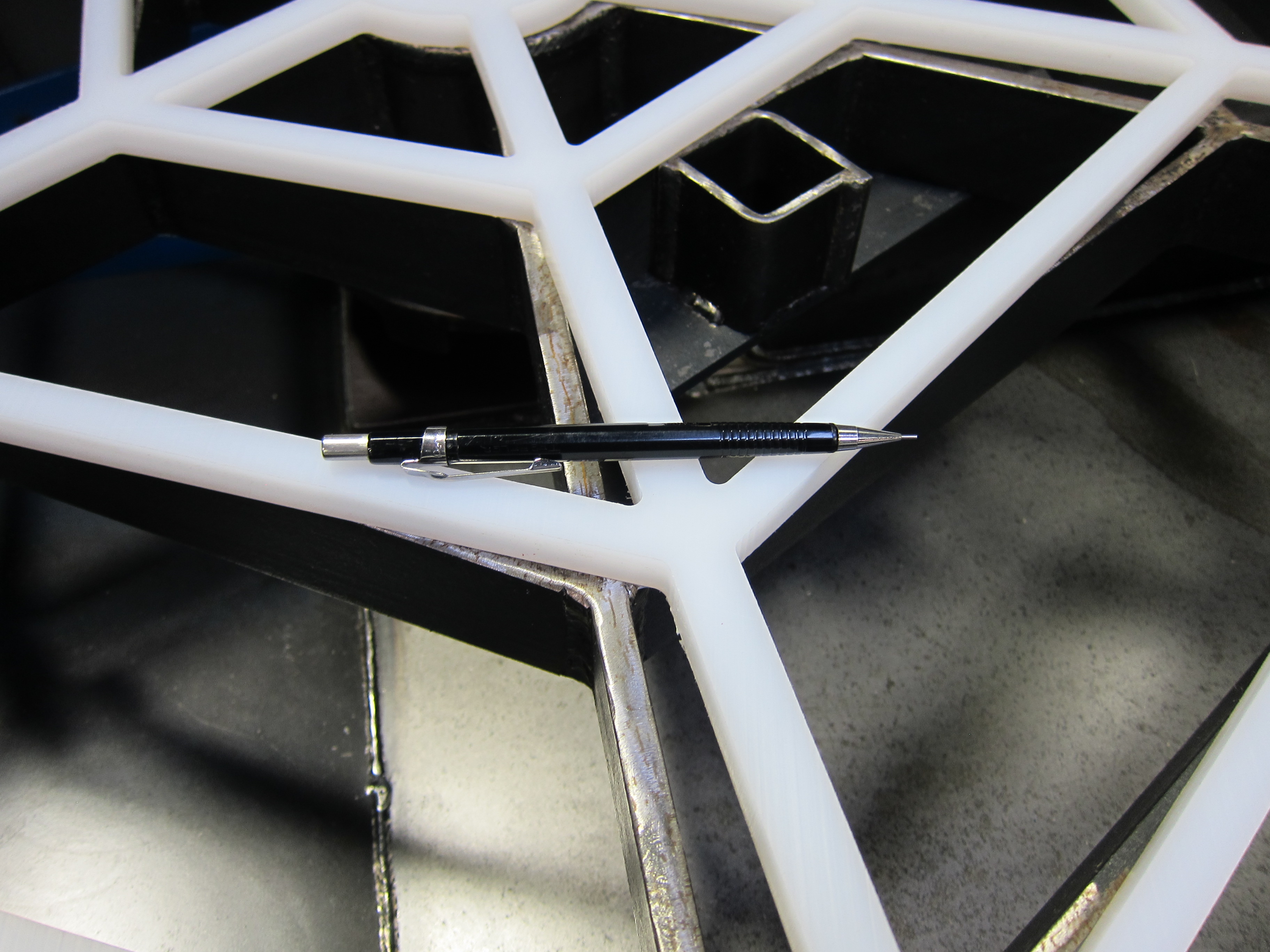 Liner snaps in place with locking pins, easy to install or remove depending on needs. UHMW is 1/2 inch thick and traces turntable outline to provide maximum protection and minimum interference with blast nozzles.
Turntable liner webs are 1/2 inch thick by 1 inch wide and trace turntable webs. Sizes to fits SR30, SR40, SR52 size turntables. Two piece liners avialable for larger turntables. StingRay Turntable liner, thick UHMW plastic prevents metal to metal contact with parts.
Steel Mesh Turntable Liner
Heavy gauge wire mesh turntable liners are used on larger StingRay parts washers with turntable diameters of 72 inches and up. The 5/16 inch diameter wire with 2 inch openings provide a suitable surface for placing smaller parts. This rugged turntable liner is generally permanently welded to the turntable. Optional steel mesh turntable liners mounted with fasteners are available.