StingRay ratchet straps are a straightforward method of binding parts and baskets to the parts washer turntable for washing. Strap material is engineered to resist cleaning chemical attack and abrasion. Ratchet mechanism ensures secure tightening of wash load while webbing is resistant to stretching under heated conditions.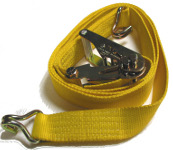 Strapping: Heavy duty polyester web
2.0 inches wide x 11 ft long
Hooks at each end mate with turntable anchor points
Steel Ratchet, heavy-duty
5,000 lb tension rated.
Need to Hold Parts Washing baskets on the turntable? Use ratchets straps.