Saves energy by reducing heat loss.
Decreases cost to heat machine.
Reduces variation in process temperature.
Reduces noise caused by solution impacting cabinet walls.
Controls surface temperature for personnel protection and comfort.

StingRay Thermal Insulation & Noise Reduction on Cabinet Door

Insulation steel frame


Installing insulation board


Finished with galvanized sheet

Insulating the wash tank not only saves energy, it eliminates hot and dangerous surfaces which could cause accidental injury. An insulated Parts Washer is user friendly. Insulation reduces the surface temperature to a safer level, resulting in increased worker safety and the avoidance of worker downtime due to injury. Walls are safe to touch even when washer is operating at 200 degrees F (93 degrees C). The insulated wash cabinet also forms a sound barrier between the Power Wash blasting inside cabinet and the surrounding work area. The noise reduction is well below the 90 dBA maximum time weighted average for noise exposure as specified in OSHA 29CFR 1910.95.

Galvanized sheet steel screwed over insulation and steel frame. All surface rust proofed before insulation sheet installation. Left side awaiting sheet steel cover.

Technical Details of Thermal Insulation and Noise Reduction System:

Rust Proofing Walls
All vertical cabinet surfaces and roof of Wash Cabinet are insulated to R=4.3. Insulation material is 1 inch (25 mm) thick cellular polystyrene that does not absorb and retain moisture like Fiberglas or other insulating materials. Frame for insulation is 1 inch steel tube welded to exterior of cabinet. Insulation is placed between metal framework and covered with 18-gauge (1.2 mm) galvanized sheet steel. All interior surface are rust proofed with zinc primer before the insulation and skins are installed. Galvanized steel covering is secured to frame every 6-8 inches with self-tapping screws.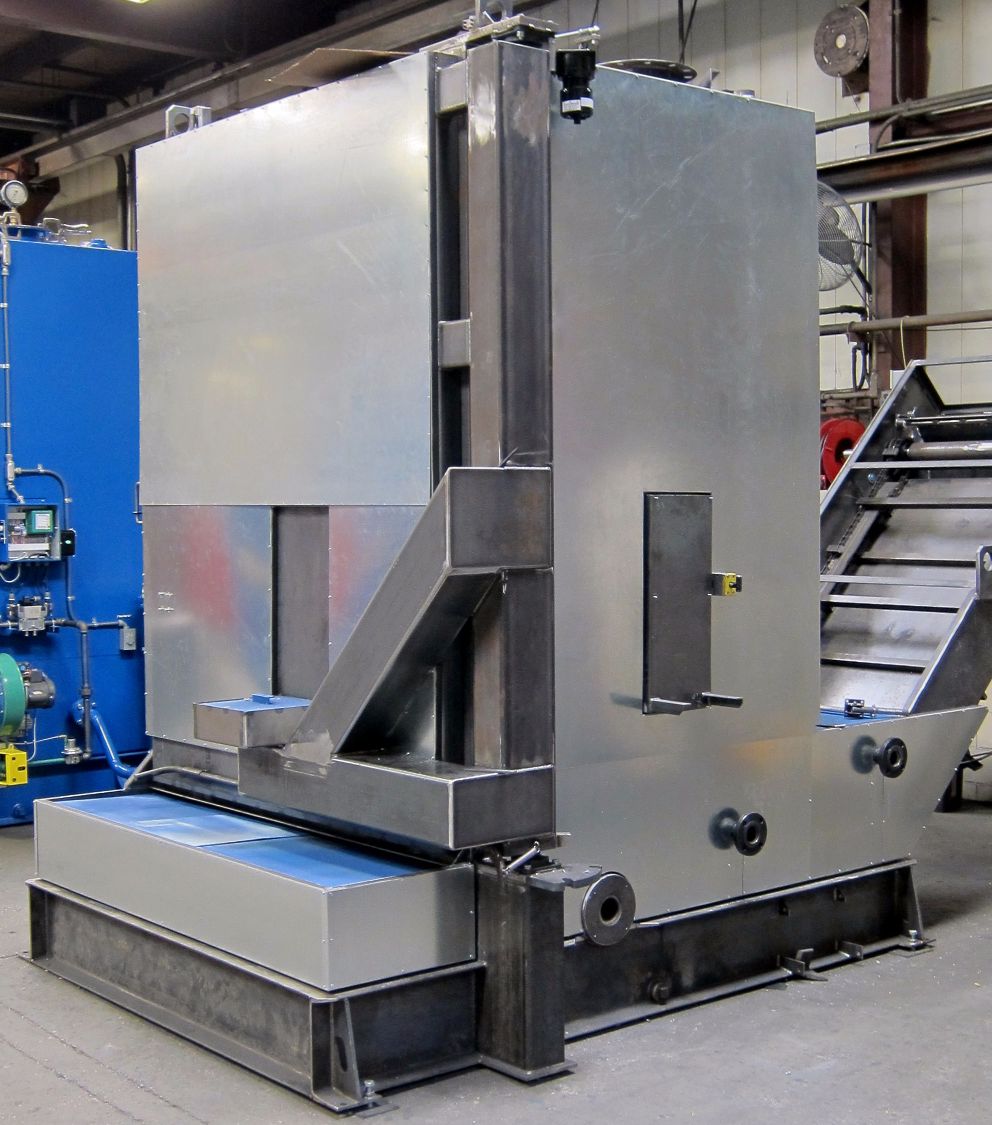 Insulation Finished ready for paint on StingRay 6048 with sludge scraper