Clamshell Turntable Models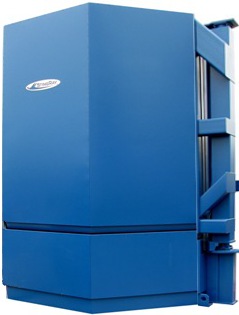 StingRay 15060
Heavy-Duty Clamshell Turntable Model 84, 100, 120, 136, 150 Industrial Parts Washers
StingRay Heavy-Duty Clamshell Parts Washers offer five standard designs but can be manufactured for applications beyond the capacity of the standard retractable turntable washer. The StingRay Clamshell washers are designed to handle loads up to 82,500 lbs, have turntable sizes from 72" to 210", and work heights matching your tallest parts cleaning requirements. Unique features for this industrial washer line include:
New Heavy-Duty 140 hp Pump Systems

Engine Block Flush System

Multi-stage Filtration

Debris / Chip Basket Easily Accessed with External Remote Door

Heavy Gauge Woven Wire Turntable Liner

High Capacity Steam Exhaust with Speed Controls

Sludge Removal System to minimize maintenance

The v-notch Roof Line of the clamshell configuration offers easy access for loading with an overhead crane.

StingRay Manufacturing can configure the right size Clamshell for your largest cleaning needs, regardless of size or weight.