NEWS Release: 9/7/2017
Shipped – StingRay Parts Washer #8612, SR10073, Configured to Clean Engine and Transmission Components for Military Applications
End User has been using StingRay Technology for over 25 years. This Model SR10073 is the third StingRay Parts Washer acquired in 2017, with a total of 17 parts washers using our technology. With a 100-inch turntable and 73-inch work height, the user will be able to clean parts in a wide variety of sizes in a matter of minutes. StingRay is proud to continue providing outstanding cleaning machines for this End User for many years to come.
Update on the User Results will be released once the Factory Service Technician completes the Start-up, Training and Commissioning – bookmark us and check back for updates.
| | |
| --- | --- |
| ♦ 70 hp Heavy Duty Duplex Pump System | ♦ Cabinet Thermal/Noise Reduction Insulation |
| ♦ Steam Heat Source | ♦ Internal Reservoir Cover |
| ♦ Pump Sound Insulation | ♦ Turntable Anchoring Attachments |
| ♦ Automatic Heated Fresh Water Rinse System | ♦ Door Mounted Jib Crane (4000 lbs., 120" Span) |
| ♦ Automatic Rust Preventative System | ♦ Remote Grease Fittings |
| ♦ Dual Speed Automatic Steam Exhaust System | ♦ Industrial Control & Safety Package |
| ♦ Automatic Disc Oil Skimmer | ♦ Maintenance Kit |
Additional Information: SR10073 StingRay Parts Washer Specification Detail.
Download USA or Metric Specifications in PDF format.
Click to Enlarge

To clean large parts requires plenty of heat and this StingRay uses steam to power the heating system. Condensing steam releases a tremendous amount of heat, so much that this washer heats up to operating temperature in under an hour and is ready to clean parts.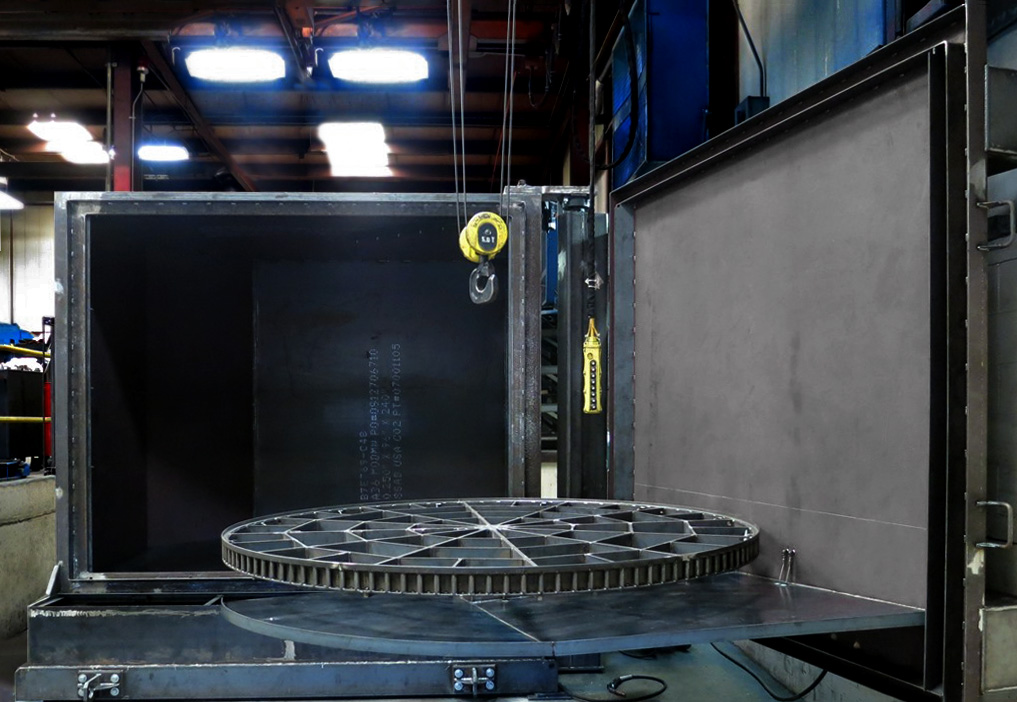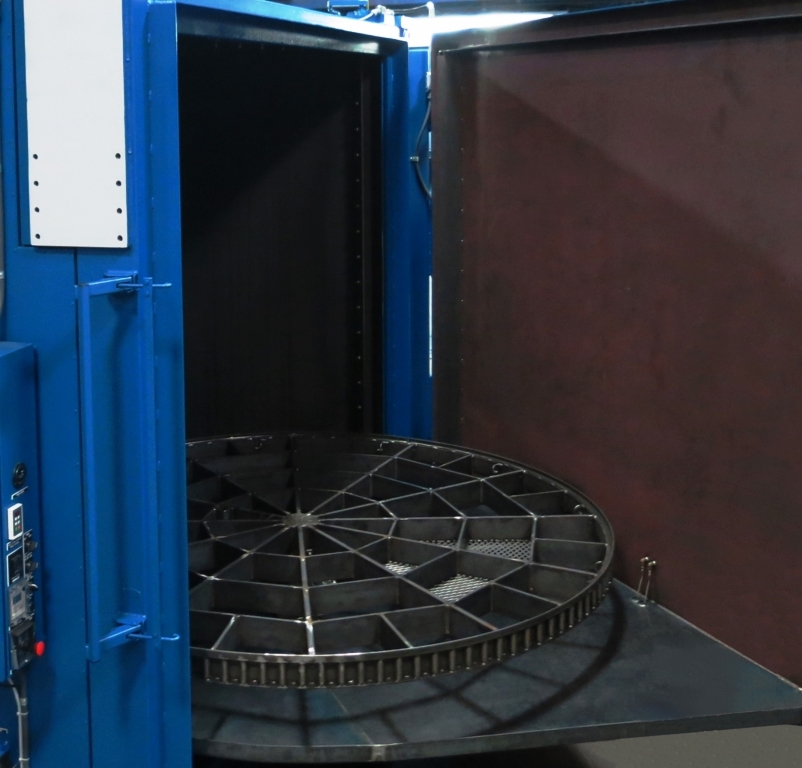 Large swing door parts washer provides full access to turntable with overhead crane for loading and unloading.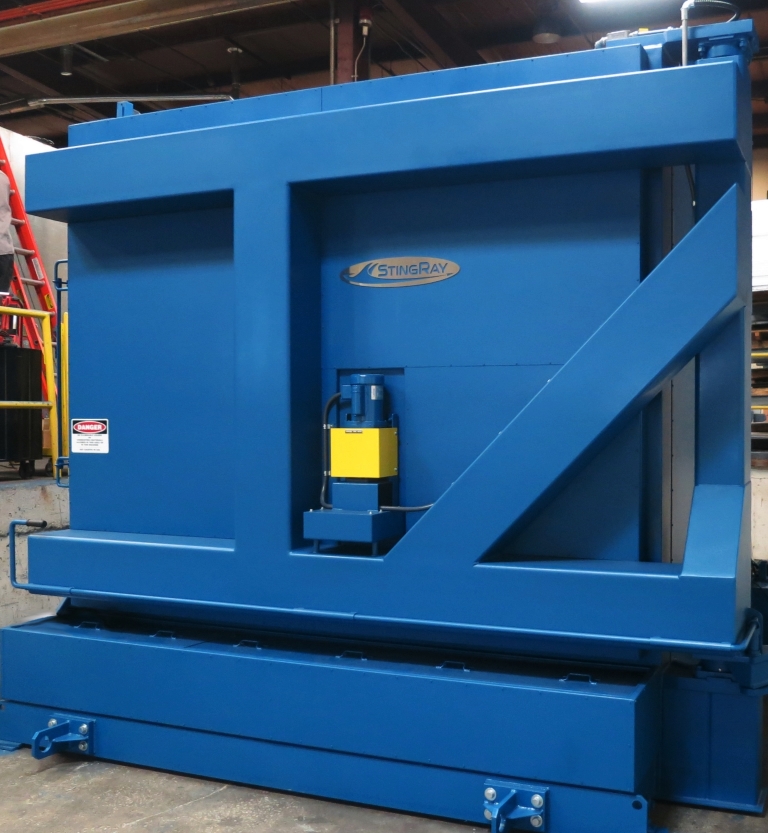 Heavy-duty construction with ASTM graded 1/4 inch thick steel walls, this washer is built rugged for cleaning large dirty parts.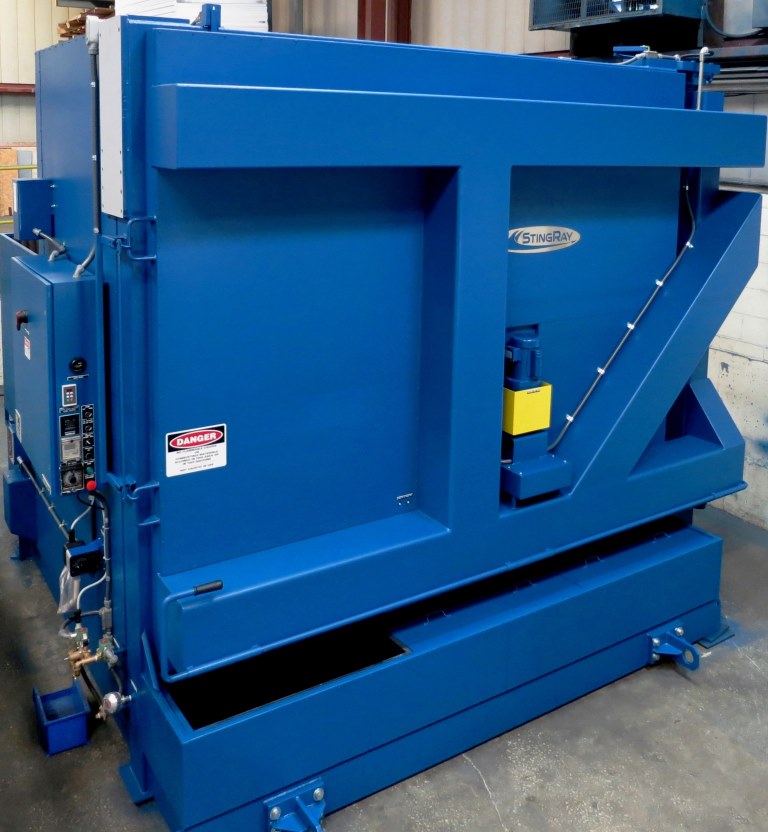 Front and rear view of the StingRay SR10073 parts washer. Pump noise reduction enclosure and cabinet thermal insulation reduce industrial noise level well below OSHA requirements.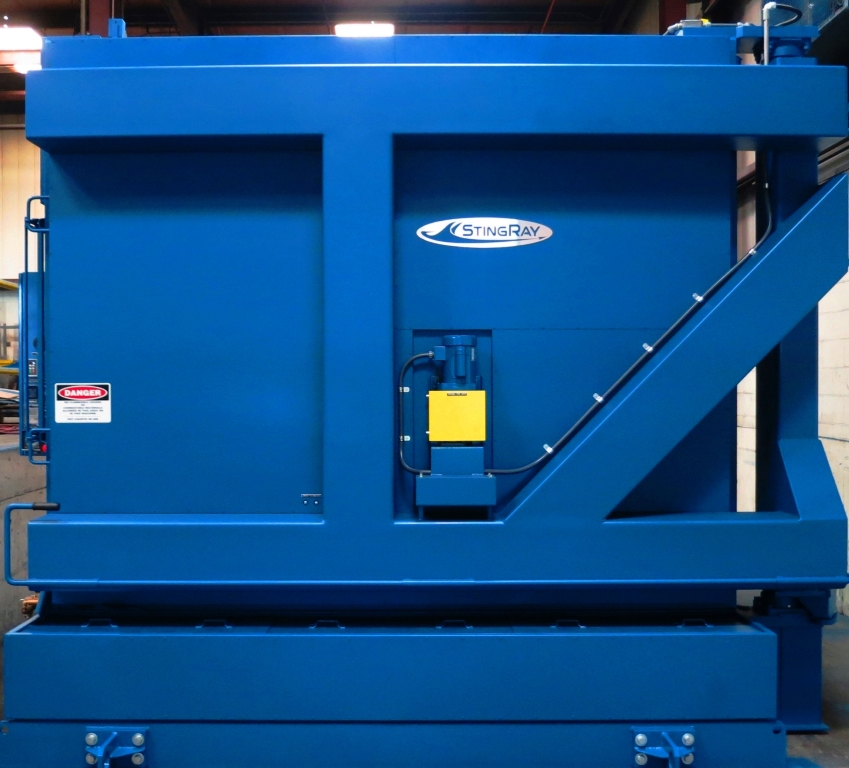 The cleaning area in this industrial parts washer is 100 inches in diameter with a 73 inch tall clear space. The turntable supports parts weighing up to 20,000 pounds. With the 70 horsepower pump system turck, tank, bulldozer and heavy haul truck engine blocks are easily cleaned.