StingRay Manufacturing offers the following line of heavy duty industrial parts washers to replace your current solvent cleaning equipment, industrial parts washers, aqueous part washers, aqueous automotive part washers, aqueous jet spray washers, aqueous cleaning system, and industrial parts cleaning washers. StingRay industrial cleaning machines are engineered to meet the rugged requirements and short cleaning cycle times of our industrial customers like Caterpillar, Komatsu, Rolls Royce, P & H Minepro, Air Canada, New York Department of Transportation and many more. StingRay goes beyond just building aqueous parts washers by assisting each industrial customer with an engineered aqueous cleaning solution to meet their tough industrial cleaning requirements.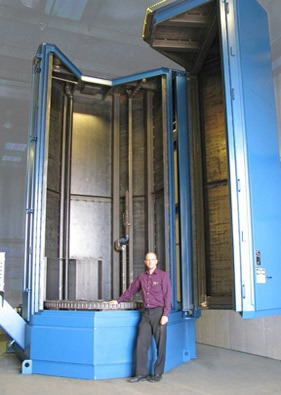 Closed loop, Zero Discharge, industrial heavy-duty aqueous parts washer
Engineered for structural Integrity and maximum aqueous parts washing effectiveness
Aqueous cleaning machine removes oil, grease, road soil, carbon deposits and many other soils
Reliable low cost aqueous part and parts cleaning
Short automatic aqueous cleaning cycle with wash, rinse, rust inhibitor, and flash dry
Uses the Power Wash Process with the impact pressure of hot water and detergent to clean dirty parts.
Fresh water Rinse after aqueous part washing cycle with injected rust inhibitor
Oscillating spray blasts parts from a different angle each time the part passes on the rotating turntable
Non-synchronous turntable rotation provides hundreds of cleaning angles per wash cycle
No other industrial spray washer, jet spray washer or aqueous washing machine cleans as well
Complete line of aqueous washers with 28 industrial washing machine models
High-capacity turntable to handle wash loads from the largest part to the smallest part
StingRay Industrial Washer Applications: Cat block, Timken bearing, railroad bearing, aircraft wheel, locomotive block, rail car wheel set, electric motor winding, stator, rotor, armature, traction motor, crankcase, diesel engine head, rail power pack, piston, ink bucket, ink tote, mining equipment, steel mill bearing, turbocharger, blower, transmission, hydraulic part, brake shoe, automotive head, crankshaft, gear case cover, turbine, compressor and any other dirty part.
StingRay Part Washers Features and Dimensions:
Standard Industrial Washers Features
Industrial Part Washer Comparison Charts:
Industrial Washers Turntable Load Capacities Comparison Chart StingRay Parts Washer,
MART Cyclone / Tornado / Hurricane Power Washers & Proceco Typhoon Jet Spray Washer
Aqueous Parts Washer and Jet Spray Washer Manufacturers Comparison Chart